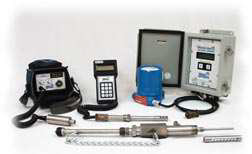 Flow and Temperature measurement such as venture tubes, flow nozzle, pitot tube, orifice flange and plate, flow element, blind flange, bleed rings, thermowell, RTD temperature element and etc. from TERCOM Srl, Italy.
SANDVIK Seamless tubular material and steel products from AB Sandvik Material Technology Sweden for oil and gas project.
TYLOK Compression fitting for instrumentation Tube and Pipe as well as instrumentation valves and manifold from Tylok, International Inc., USA.
Corrosion Monitoring Systems from METAL SAMPLES COMPANY and CORR INSTRUMENT Inc, USA offer unparallel product range in corrosion monitoring.
Fluid Properties equipment, software, and services for the measurement of hydrocarbons fluid characteristics through our principal DBR TECHNOLOGY Inc., Canada.
---
Metal Samples specializes in manufacturing products for corrosion monitoring and materials evaluation. For the past three decades we have supplied products and services to members of nuclear, medical, aerospace, chemical processing, oil & gas, water treating, and petroleum industries around the world.

Metal Samples offers a full range of corrosion monitoring systems, including access fittings for high-pressure/temperature systems to insert and retrieve probes, chemical injection systems, quills, and nozzles. Probes include ER, LPR, erosion, hydrogen, biological, and custom. Corrosion instruments include portable meters, transmitters, and data loggers. Other products include corrosion test coupons, holders, insertion systems, and test racks. Laser cladding and manufacturing services are also available.
TERCOM s.r.l. is a company engaged since more than 20 years in the design, manufacturing and supply of primary devices for Flow and Temperature Measurement as well as Instrumentation Accessories.

Tercom's products are designed with latest AutoCAD technology and calculation software, manufactured and tested in a modern equipped plant to provide accurate and reliable Flow and Temperature measurement in
the most demanding power, chemical, petrochemical, oil and gas process industries.

Through a continuous products development and a controlled growth, Tercom has reached an high quality level – ISO 9001 certified – however maintaining an high degree of flexibility necessary for a best Customer service..
| | |
| --- | --- |
| | Badotherm offers a full range of products and solutions to a large number of companies in a broad range of industries |
| | |
| --- | --- |
| | Neomeris, the Gebrueder Heyl Vertriebsgesellschaft für innovative Wasseraufbereitung mbH, is the largest, worldwide active sales organization of the Heyl company group. Since 2005 the organization is responsible for the distribution and sale of the products of the brand manufacturer Gebrueder Heyl Analysentechnik GmbH & Co. KG. We started with the focus on the German speaking market and adjacent neighboring countries. |
| | |
| --- | --- |
| | We provide maintenance and services on all our products that we sold to our customers ourselves. |